---
I'm @itsharristime of True North Fantasy Football and I will be here to guide you through your Touchdown Dance selections on a weekly basis throughout the season. MKF's TD Dance is the most fun you can have on the internet - give it a try this Wildcard Weekend, as we have six hard hitting playoff matchups that are bound to get you dancing.
Love fantasy football and don't want the regular season fun to end? It doesn't have to.

Monkey Knife Fight will have games rolling for EVERY playoff game with no worries about getting knocked out in the first round. All of your favorite games with extra playoff payouts all the way up to Super Bowl LV.

This weekend we kick it off with MKF TD Dance $5,000 playoff pools for EACH day of Divisional playoff action. That's right, go 3/3 on your TD Dance picks from Saturday or Sunday and get a piece of the $5,000 up for grabs each day. MKF will be doing the $5K pool EVERY single day there is an NFL Playoff matchup.
One thing to note, though, is that there will be no slates, so you must win at each individual game.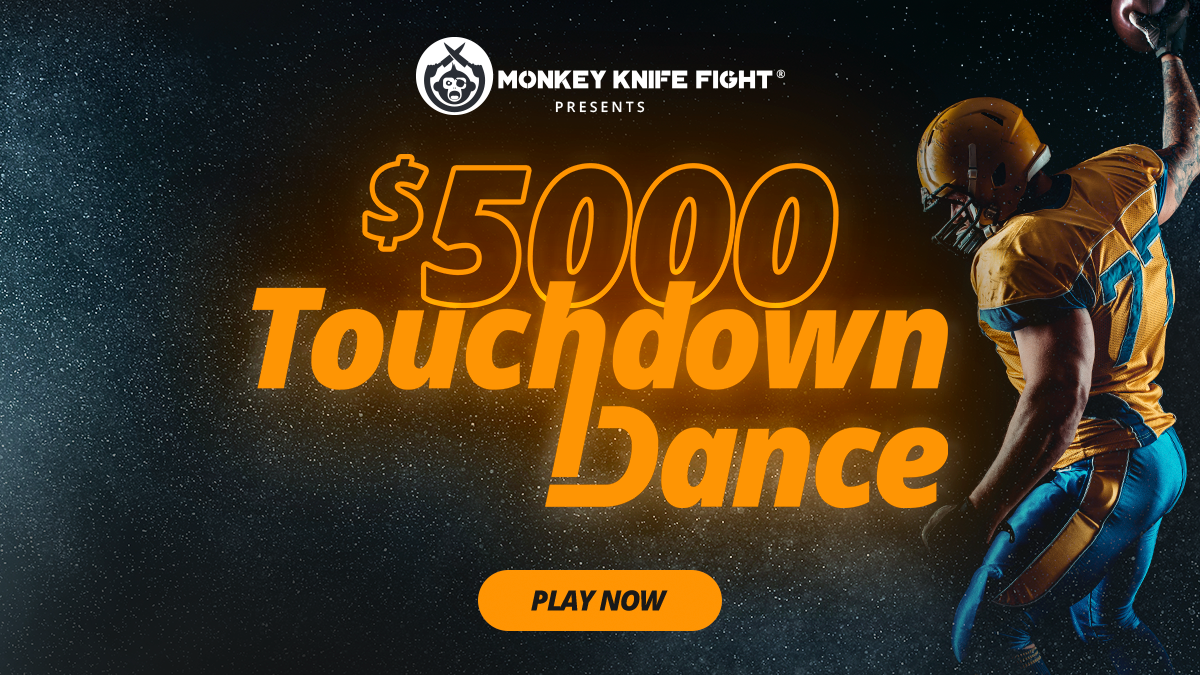 🏈 RAMS @ PACKERS
Wild Card Weekend wouldn't have been complete without an upset or two. The Rams played their part upsetting the favored Seahawks 30-20 in Seattle. No one will get this Rams team confused with "The Greatest Show on Turf", yet, they have a formula to win. With a strong run game and what might arguably be the best defense in football, the Rams could turn some heads again this weekend in Green Bay.
It will be Cam Akers leading the run game on the road for the Rams at Lambeau Field.



Akers wasted no time making a statement in his playoff debut rushing for 131 yards, a touchdown, and and adding another 45 receiving yards. The Rams will need Akers to carve up a Packers run defense that during the regular season allowed the fifth most points to running backs and were almost a lock to give up a TD a game (.9 TDs/game to running backs). With a Rams quarterback corps that only completed 12 passes against the Seahawks, Akers will need to repeat his playoff premiere if the Rams stand any chance of going the distance in the 2020 playoffs.
Going the distance is exactly what Aaron Rodgers and the Packers had in mind when they played all of their starters against the Chicago Bears in Week 17 to secure a first-round bye. The Packers are poised for a deep run, and this matchup against the Rams defense will test Rodgers and the pass game. The Rams have only allowed 10% of passes to go downfield for over 15 yards, meaning that all-star Packers running back Aaron Jones will be a key for the Packers. Jones' usage saw some encouraging spikes late in the season, especially in Week 14 where he experienced the highest snap share of his career seeing 94.6% of snaps against the Panthers. An increased snap share for Jones and a potential uptick in passing work in the red zone might be the ticket to unlocking some dancing for all the MKF'ers out there. The Rams have only allowed 15 red zone passing TDs and 20% of those TDs have went to running backs. Weighing this potential receiving TD threat with Jones 3.1 red zone touches a game makes Jones a good bet to deliver you to touchdown glory.
Touchdown glory and TD dancing was the hallmark of Davante Adams' 2020 season.


Adams tied the Packers single season TD record while leading the entire NFL with 18. That gaudy TD total is nice yet it's more where Adams wins and his red zone volume (first in the NFL regular season) that interests me. Adams scored 72.22% of his TDs in the red zone with three of them coming at the one yard line. This shows how comfortable Aaron Rodgers is throwing to Adams in clutch situations. Against a Rams team that has given up just two, yes two total TDs outside of the red zone this season, Adams red zone usage sets him apart from any other Packers option for TD dancing.
My Dance Partners:
Cam Akers, RB, LAR
Davante Adams, WR, GB
Aaron Jones, RB, GB
Could you ask for a more exciting matchup to cap off day one of the Divisional Round playoffs? Both the Ravens and the Bills have peeked end of season, with the Ravens having won their last six games and the Bills their last seven. Each team is firing on almost all cylinders, and this game projects to have point total of 50, which, I'd almost certainly be taking the over on.
Why is that you ask? Well, this game will feature two of the most exciting young quarterbacks in Buffalo's Josh Allen and Baltimore's Lamar Jackson. Each get it done in their own fashion, with Allen relying more on his pass catchers to spread around the TD Dancing love than the rush heavy Ravens. Allen's favorite target is wide receiver Stefon Diggs, and for good reason.



Diggs has been tearing up opposing defenses, going for over 100+ receiving yards in four of his last five games. During this stretch, Diggs has scored five TDs and seen seven red zone targets. Diggs consistent target volume (10.5 per game) and ability to allude top coverage as he did against Xavier Rhodes last week, has me feeling some kind of way about Diggs beating the Ravens secondary to do some dancing this weekend.
Where we believe the Bills will lean on Josh Allen and the pass game to beat the Ravens, we know for damn sure that the Ravens will be running the ball. And run the ball they do. The Ravens were the number one run offense in the regular season, averaging 236 rushing yards a game. To put that in context, the next closest teams were the Rams and the Colts who averaged 164 and 163 rushing yards a game. The run game is still a multi-headed beast with the Ravens backfield now split between rookie J.K Dobbins and bruiser back Gus Edwards. Dobbins is the preferred TD dancer, having scored a TD in his last seven, and took all of the Ravens red zone carries against the Colts, converting on one of his two attempts. The red zone usage is a nice to compliment to Dobbins ability to get loose in the open field and make defenders miss. Dobbins led the league in yards per carry (6.0 yards per carry) and will look to exploit an improving Buffalo run defense who allowed 16 TDs in the regular season to running backs, and gave up 76 yards and a score to Colts rookie Jonathan Taylor last weekend.
In that same game, the Buffalo secondary were able to hold the Colts top receiver T.Y Hilton to only 5 targets and 32 yards. Shutting down the teams opposing top receiver has not been an issue for the Bills, it is covering tight ends that has been problematic. The Colts exploited this last weekend with 136 yards between Jack Doyle, Mo-Alie Cox and Trey Burton with Doyle having a 70 yards and a TD. This isn't a one game occurrence for the Bills. During the regular season the Bills allowed the fifth most fantasy points to opposing tight ends, and Doyle's 70 yards was the third biggest yardage game for a tight end against Buffalo. No knock to Doyle, he's just not at the elite level that Ravens tight end Mark Andrews is. Andrews continues to jockey back and forth with Marquise Brown as the top target in the Ravens passing game, as they did last week with Andrews having six targets to Brown's nine. The Ravens would be smart to exploit the mismatch that Andrews creates against the Bills and funnel more passing work his way. Andrews will need to be a factor in this game for the Ravens to have a chance to pull off a win against a Buffalo team that looks primed to make a run at Super Bowl LV.
Stefon Diggs, WR, BUF
J.K Dobbins, RB, BAL
Mark Andrews, TE, BAL

Make sure you check out Scott Cullen's top MKF picks for all the major More or Less and Rapidfire contests, along with Conner Rowntree's recommended MKF contests.