---
I'm @itsharristime of True North Fantasy Football & founder of the CNBBCL. I've teamed with MKF to be your weekly guide for Touchdown Dance selections throughout the season.
Love fantasy football and don't want the regular season fun to end? It doesn't have to.

Monkey Knife Fight will have games rolling for EVERY playoff game with no worries about getting knocked out in the first or second round. All of your favorite games with extra playoff payouts all the way up to Super Bowl LV.

This weekend we kick it off with MKF TD Dance $5,000 playoff pools for EACH day of Divisional Round action. That's right, go 3/3 on your TD Dance picks from Saturday or Sunday and get a piece of the $5,000 up for grabs each day. MKF will be doing the $5K pool EVERY single day there is an NFL Playoff matchup.
One thing to note, though, is that there will be no slates, so you must win at each individual game.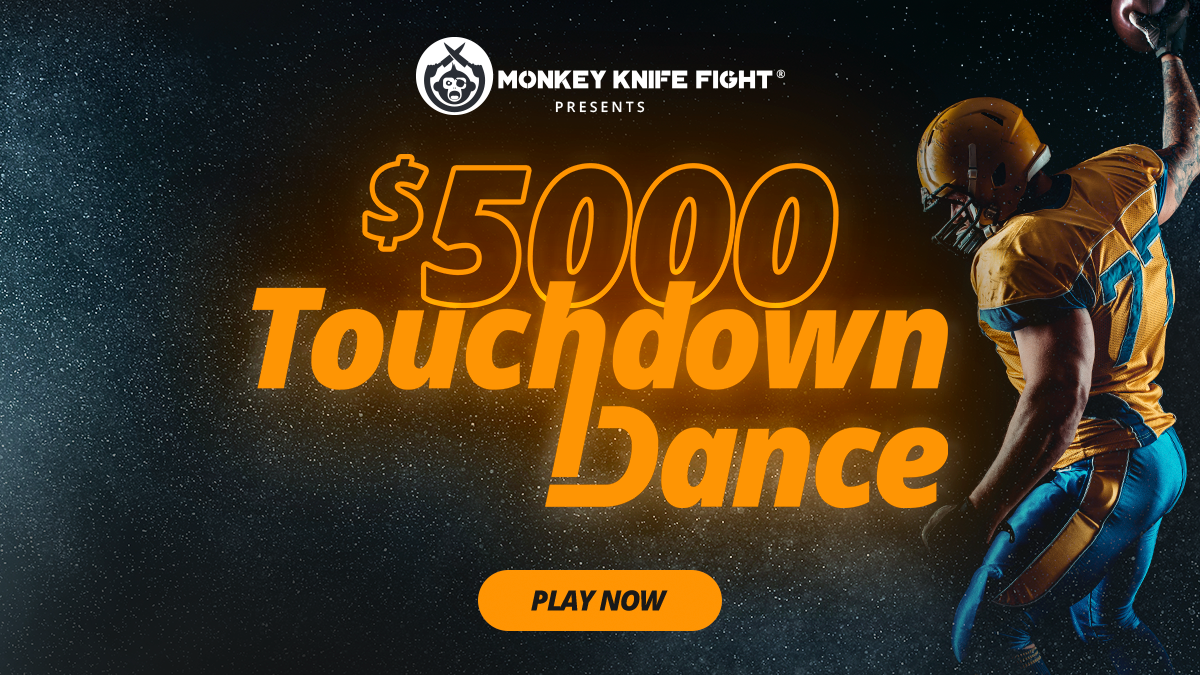 Cleveland broke their 16 year playoff winless streak in style pounding AFC Division rivals the Pittsburgh Steelers 48-37. Team "Corvette-Corvette" better be geared up to keep pace with the Ferrari's they have in Kansas City, or this game could get out of reach quickly for the Browns.
The Browns were able to rev up quickly against the Steelers and the game was salted away with three touchdowns from the all-star Cleveland running back tandem of Kareem Hunt and Nick Chubb. As tempting as it is to buy into the the revenge game narrative of Hunt, I'm going with Chubb as my first TD dancer. Chubb has now went eight straight game with a TD, and is logging a consistent snap share of over 50% compared to Hunt's game script dependent usage. I'm also pushing my chips in on Chubb as the Browns running back to play as he has out snapped and out carried Hunt in the red zone. Since Week 12, Chubb has had 25 red zone carries to Hunt's eleven. Chubb experienced a nice uptick in passing work against the Steelers seeing four targets to Hunt's one, and made the most of those targets adding 69 receiving yards. In a game where the Browns will need to be firing on all cylinders to keep their playoff dream alive, I expect Chubb to see his heaviest workload of the season in Kansas City this weekend.



Where Chubb and the Browns are the American muscle of football, the Chiefs are the high end Lamborghinis and Ferraris of the NFL. The Browns are focused on raw, straight line power, whereas the Chiefs have the finesse, power and top end speed to drive under any conditions. At the front of the pack for the Chiefs in the speed department is wide receiver Tyreek Hill. Hill was dominant in 2020, amassing 1276 receiving yards and was second only to Davante Adams for wide receiver touchdowns with 17. The extra week of rest afforded by the Chiefs bye week will do a lot of good for the speed machine as Hill has been nursing a hamstring strain since Week 15. With Hill fully healthy, "the Cheetah" will be hard to contain against a Browns secondary that was beat up by the Steelers for 501 receiving yards and four touchdowns last Sunday.
When you think of the combination of power, finesse, and speed, is there anyone else that fits that mould better than Chiefs tight end Travis Kelce? Kelce can out run, out jump, out route run most wide receivers in the league and does it at 6'5, 250 pounds. "Zeus" will be sure to unload a lightning bolt or two against a Browns defense that allowed the third most points to tight ends in 2020. Patrick Mahomes uses Kelce as his go to weapon all over the field seeing an average of 9.7 targets that led the Chiefs this season and was second amongst all tight ends this season seeing 22 red zone. This red zone dominance and Kelce's ability to create mismatches against the Browns defense all over the field, puts Kelce in the pole position for TD dancing this weekend.
My Dance Partners:
Nick Chubb, RB, CLE
Tyreek Hill, WR, KC
Travis Kelce, TE, KC
Let's hope that quarterbacks Tom Brady and Drew Brees have drank their prune juice for what Brady himself has named the "Battle of the Grey Beards". Both quarterbacks looked spry in their Wild Card wins with Brees throwing for over 250 yards and two touchdowns and Brady throwing for over 300+ yards and a pair. Part of the reason for them finding this renewed fountain of youth? The health of their wide receivers.
For Brees, it has to be the return of a healthy Michael Thomas. Thomas has had a bizarre season plagued with injuries and off the field and locker room issues. Has Thomas put them behind him? It looked that way against the Bears where Thomas had seven targets for 73 yards and a TD. No one questions the skill of a healthy and focused MT and we hope that's who shows up to play against Bucs corner Carlton Davis. Thomas has been a non-factor against the Bucs in their first two matchups and should be funneled work to exploit a Bucs secondary that as a unit has allowed the 10th most fantasy points to wide receivers.
For TD dancing purposes, we also want some of that passing worked to be directed back at the Saints regular season receiving leader, running back Alvin Kamara. Kamara was utilized more as a runner against the Bears with the return of Thomas, seeing his highest workload of the season with 23 carries, even with Latavius Murray as a surprise start. What matters for TD dancing is that Kamara is a threat through the air and on the ground to score, and did both (1 receiving TD, 1 rushing TD) against the Bucs in Week 1 and added a goal line score against Tampa in Week 9.
Kamara might be as close to a sure thing as we can hope for in fantasy football. The same can't be said for the Bucs' receiver room. It has been a "who's up next" type of mentality for the Bucs receiver room, and Tom Brady has had no problem spreading the ball around. Take last week for example: Chris Godwin with 12 targets, Mike Evans with 10 targets, Antonio Brown with 3 targets, and Cameron FREAKIN Brate with 6 targets. The previous week? Brown had 15 targets, Godwin 7 targets, Evans 4 targets and Brate with two.
The point is that it is tough to trust one Bucs wider receiver more than the next. Brady is incredibly smart and talented playing to an opposing defense. Brady will seek the open man and where there is a better matchup for his receivers. Who is that this week? I have to go with Chris Godwin, as he's been ascending since Week 15 and has the most consistent target floor of the talent Bucs receivers. 55.8% of Godwin's snaps are played from the slot, and with the Saints top coverage by Marshon Lattimore going to Mike Evans, it will Godwin more latitude in the passing game to soak up short to intermediate targets. In 2019 we were shown what a healthy Godwin could do in the yards after the catch category, leading the entire league. Fully healthy and in the midst of a five game touch down streak I've got no hesitation going back to Godwin after dropping three balls against the Bears. Before that game, Godwin had a total of four drops for the entire season. Trust in Godwin's target volume, slot usage and sure hands to help the Bucs try and win this game in New Orleans.


Michael Thomas, WR, NO
Alvin Kamara, RB, NO
Chris Godwin, WR, TB

Enjoy this Divisional Round weekend, and don't forget that every day there is NFL Playoff action, MKF will have you covered with picks and a shot a $5000 for the TD Dance pool. Need more picks? Check out Scott Cullen's top MKF picks to play, or Conner Rowntree's bonus MKF contests below.