---
I'm @itsharristime of True North Fantasy Football and I will be here to guide you through your Touchdown Dance selections on a weekly basis throughout the season. MKF's TD Dance is the most fun you can have on the internet - give it a try this Wildcard Weekend as we have six hard hitting playoff matchups that are bound to get you dancing.
Love fantasy football and don't want the regular season fun to end? It doesn't have to.

Monkey Knife Fight will have games rolling for EVERY playoff game with no worries about getting knocked out in the first round. All of your favorite games with extra playoff payouts all the way up to Super Bowl LV.


This weekend we kick it off with MKF TD Dance $5,000 playoff pools for EACH day of Wild Card action. That's right, go 3/3 on your TD Dance picks from Saturday or Sunday and get a piece of the $5,000 up for grabs each day. MKF will be doing the $5K pool EVERY single day there is an NFL Playoff matchup.
One thing to note, though, is that there will be no slates, so you must win at each individual game.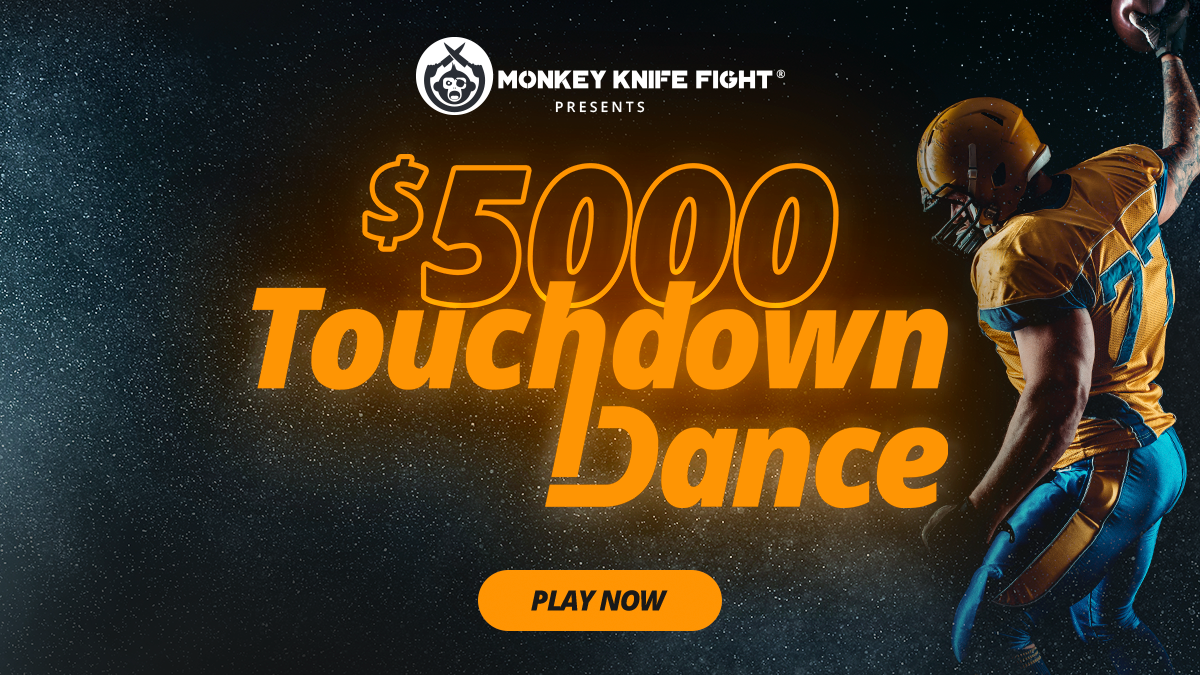 It's hard to imagine that the Titans could be the favorites at home for Wild Card Weekend matchup. Yet, here we are, with the Titans having won the last two matchups against the Ravens, one this season 30-24, and then the AFC Divisional shocker from the 2019 players where the Titans beat the Ravens 28-12. The Ravens currently sit as a -3.5 point favorite, and if they want to crush the Titans winning narrative, it will be with the run.
J.K Dobbins will be making his NFL playoff debut, and will be at the center of the Ravens ground attack. Dobbins profile coming out of Ohio State oozed with potential, athleticism and power run persona that matched up perfectly with the Ravens ground and pound style. Dobbins has found his groove over the last six games, notching a TD in each, ending the season with nine on the years. The Titans defense can be beat through the ground (120.8 rushing yards allowed per game) as well as through the air (277.7 receiving yards allowed per game). For the ground portion, Dobbins and his league leading 6.0 yards per carry and 8.7% breakaway run rate will help get the Ravens and your MKF lineups dancing.
For the air portion, it'll be another Raven hoping to carry on a TD streak in wide receiver Marquise "Hollywood" Brown. When looking for the lead receiver on the 32nd ranked passing attack in the NFL, it doesn't take many targets to decide who it is. In the case of the Ravens, the lead receiver volume is a hair thing margin, as Brown and tight end Mark Andrews are only separated by .2 targets a game. I'm going with Brown as he experienced a bump in targets from Weeks 12-17 (6.83), had more red zone targets (seven) in those weeks than in the entire season (five), all the while getting in the end zone six times to help the Ravens make the playoffs. Against coverage from Titans corner Adoree' Jackson, I expect Brown to be more Hollywood than "B-List".
The fantasy community might have had to change Marquise Brown's nickname a couple of times this season, the title "The King" stayed constant for Derrick Henry all season long. Henry continued where he left off in 2019 with a monster year in 2020:
378 Carries, 2027 Rushing Yards, 17 TDs



The King, undoubtedly reigns supreme. The Titans will need him to be royal in this game against a Ravens run defense that is tough, yet has been exposed by elite running backs. I look to what Nick Chubb was able to do in Week 14 as a solid blueprint of what to look forward to from Henry. Chubb rushed for 103 yards and 2 TDs, and, the King himself went for 132 rushing yards and a TD in Week 11 against the Ravens. This offense will need 100+ from Henry and we hope for the Titans sake and for your wallet's sake that the King got his dancing shoes shined for this matchup.
My Dance Partners:
Derrick Henry, RB, TEN
J.K Dobbins, RB, BAL
Marquise Brown, WR, BAL
🏈 Bears @ Saints
The Saints can breathe a collective sigh of relief as star running back Alvin Kamara has announced he will be off of the COVID-19 list and ready to play Sunday. What many hope is a final Super Bowl push for veteran quarterback may have been short-lived if Kamara and his dynamic skill set were not available for Wild Card Weekend.
Kamara did everything this season for the Saints, being their leading receiver (756 receiving yards), leading rusher (932 rushing yards) and also led the league in TD scoring with 21 on the year. This is all the more impressive knowing he was able to do it through the three-week Taysom Hill experience where Kamara was turned into persona non grata by Hill from weeks 11-13. With Brees back, Kamara's passing volume will continue to be in the eight to ten target range, and with Latavius Murray ruled out, Kamara will command the lions share of the rushing volume. Kamara had a day against the Bears in Week Eight going for 168 yards on 12 carries and 13 targets.
It's admittedly strange that we aren't talking about Michael Thomas as our next dancer, as he is set to return from an ankle injury. If Kamara isn't cleared, then "Can't Guard Mike" would be a wise decision to slot instead.
MT's head scratching, injury plagued season allowed for tight end Jared Cook to remain fantasy relevant, ranking sixth in tight end touchdowns (seven) and was third on the Saints in targets (60). Cook has a sneaky good rapport with quarterback Drew Brees that was on display the first time these two teams met where Cook had his best fantasy game of the season (7 targets, 51 yards, 1 TD). Factor in that Bears have allowed the second-most fantasy points to tight ends this season and you can bet that Jared will be cooking in this Wildcard matchup.



Cooking up any kind of offense against the number four ranked Saints defense for the Bears will be tough. I'm going on pure talent and volume with wide receiver Allen Robinson as the Bear to get dancing in the Big Easy. Robinson has continued to produce throughout his career with middling quarterback play, and this season was no different posting his third consecutive 1000+ receiving season and the fourth of his career. What is tantalizing for TD Dance is his 19 red zone targets on the year that ranked him fourth amongst wide receivers. It's also encouraging that in Week 8, we were able to preview this matchup when Robinson was up against Saints corner Marshon Lattimore with Robinson finishing the day with 78 receiving yards and a TD. Robinson is a must play for a Bears offense that is quiet quietly number nine in passing volume.


My Dance Partners:
Allen Robinson, WR, CHI
Alvin Kamara, RB, NO or Michael Thomas, WR, NO
Jared Cook, TE, NO

🏈 Browns @ Steelers
With Brown's first year head coach Kevin Stefanski ruled out of this game due to COVID-19, it's probably not the debut the Brown's envisioned for their first playoff matchup since 2002. Stefanski or not, this Cleveland attack will continue to roll through the run game, and at the heart of that is running back Nick Chubb.
Chubb has dominated since coming back from an MCL injury in Week 10. Since coming back, Chubb has either rushed for 100+ yards or scored a TD, and has done both on four occasions. To put that truly in perspective, in only 12 games Chubb racked up 1,065 rushing yards and 12 touchdowns. Chubb is truly a game breaking talent, leading the league in yards created per touch and was No. 2 in breakaway run rate. Factor in Chubb's 3.1 red zone and .8 goal line carries a game, and Chubb is a threat to score from anywhere on the field. This type of dancing ability can not be faded, even against a Pittsburgh run defense that has given up the second-fewest fantasy points to opposing running backs this season. Chubb is on a six-game TD streak, and rushed for 108 yards and a TD against the Steelers in Week 17. Expect Chubb to top his snap share high of the season (Week 2- 63.8%) if the Stefanski-less Browns stand a chance at Heinz Field this weekend.
You can already see the asterisk being placed next to this game for the Steelers. No matter the outcome, there will be no asterisk put beside the Steelers wide receivers that make this offense go. With a league worst run game (84.4 rushing yards/game), Ben Roethlisberger will continue to lean in on the Steelers talented wide receivers. Diontae Johnson has been a target magnet for Big Ben, averaging 9.6 targets a game and has had seven games of twelve targets or more. Cleveland gave up 20 TDs to wide receivers on the season, and Johnson will see a plus matchup against Browns corner Terrance Mitchell. Johnson didn't see the type of volume he's accustomed to (four targets) with replacement Mason Rudolph under center, and still managed 96 yards against Mitchell. Mitchell allowed fellow Steelers wide receiver James Washington to roast him for 120 yards and a TD in Week 6 when Johnson was out with a back injury. Rest assured that Diontae has been practicing his TD Dance moves for his first ever playoff appearance.
No one needs to tell JuJu Smith-Schuster to practice any dance routines. We're pretty sure he is A-OK in that department. JuJu, love him or hate him, is a competitor and continues to taunt and infuriate his opponents. As a TD Dance choice, you are going to love his continued usage as the primary slot weapon for the high volume Steelers passing game. Where there might be some concern over Diontae's ability to hold onto the ball, there is zero concerns in that regard for JuJu. On 128 targets (15th in the league), JuJu reeled the ball in 97 times (seventh in the league) and only had three drops on the year. That's why JuJu continues to be the go to in the red zone where he has been targeted 19 times and scored six of his nine touchdowns. With opponents logos being off limits, JuJu will have to save his dancing for the end zone at Heinz Field, and, we are just fine with that.
Enjoy this Super Wild Card Weekend, and don't forget that every day there is NFL Playoff action, MKF will have you covered with picks and a shot a $5000 for the TD Dance pool.


My Dance Partners:
Nick Chubb, RB, CLE
Diontae Johnson, WR, PIT
JuJu Smith-Schuster, WR, PIT