---
I'm @itsharristime of True North Fantasy Football and I will be here to guide you through your Touchdown Dance selections on a weekly basis throughout the season. MKF's TD Dance is the most fun you can have on the internet - give it a try this Wildcard Weekend, as we have six hard hitting playoff matchups that are bound to get you dancing.
Love fantasy football and don't want the regular season fun to end? It doesn't have to.

Monkey Knife Fight will have games rolling for EVERY playoff game with no worries about getting knocked out in the first round. All of your favorite games with extra playoff payouts all the way up to Super Bowl LV.

This weekend we kick it off with MKF TD Dance $5,000 playoff pools for EACH day of Wild Card action. That's right, go 3/3 on your TD Dance picks from Saturday or Sunday and get a piece of the $5,000 up for grabs each day. MKF will be doing the $5K pool EVERY single day there is an NFL Playoff matchup.
One thing to note, though, is that there will be no slates, so you must win at each individual game.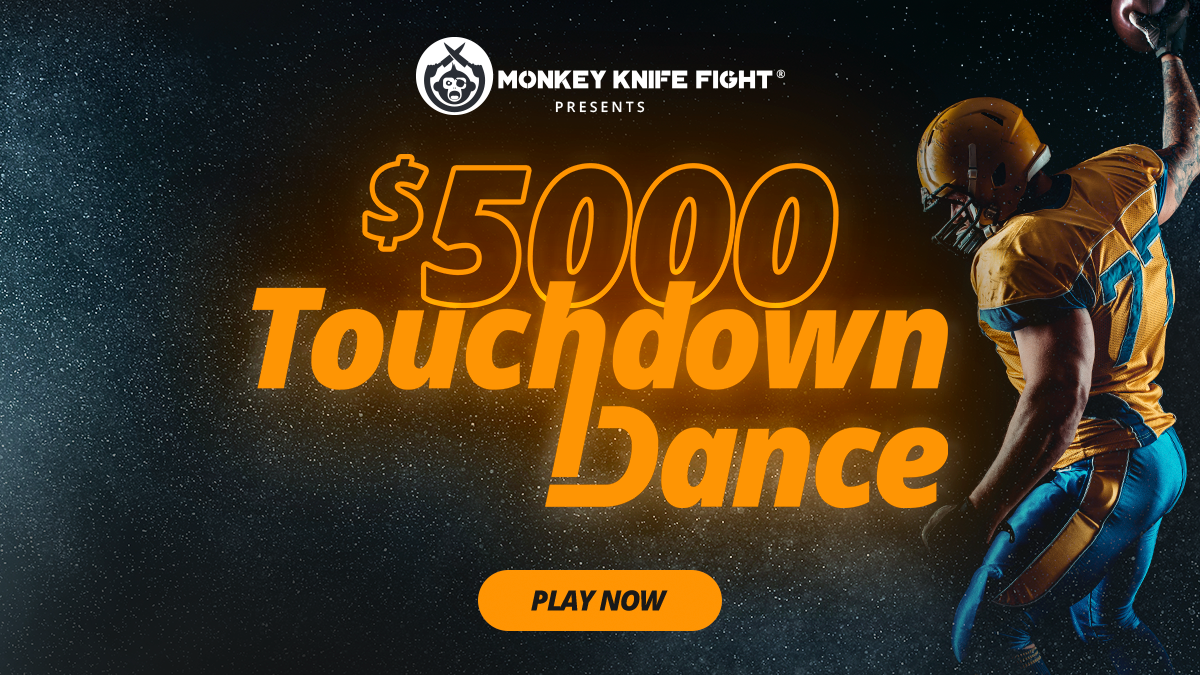 Last weekend the MKF fantasy team had a great run.
This column highlighted the Jaguars @ Colts in "Two to Tango" and two of the Colts players we are about to talk about, wide receiver T.Y Hilton and running back Jonathan Taylor. Hilton and Taylor two both scored TDs (Taylor: 2 TDs, Hilton: 1 TD), as well as Jacksonville rookie wide receiver Laviska Shenault, helping you win this game and making the lineup eligible for a shot at the 5k TD Dance prize pool. And the dancing didn't stop there: this column went 4/4 on each TD Dance slate recommendations, and 12/12 on player selection.
I'm saying all of this because I want you to go right back to Hilton and Taylor in this Wild Card Weekend matchup. Though Buffalo are favorites, I'm going with the pair of Colts because Josh Allen is the incredible Buffalo Bills touchdown machine. Being a QB, he can't be one of our choices for the TD Dance, even though he does have a sweet macarena. Two Colts to tango with will do just fine, as Taylor has scored a touchdown in his last five games. In three of those games Taylor has got to show off his TD Dance moves not once, but twice. Taylor is coming off a career high snap share of 84.4% against the Jaguars last week, and will continue to see a snap share north of 60%. Against an improving Buffalo run defense, Taylor will be the key to the Colts having a chance to win.
It's also because of this improving run defense that I'm leaning on veteran wide receiver T.Y Hilton to continue to be the main target for Phillip Rivers. The Bills will likely sell out to stop the run and challenge Rivers to go downfield. Hilton leads the Colts in targets per game, and is seeing an early 20% (18.8) team target share. Corner Tradavious White of the BIlls will be covering Hilton tough in this matchup. Though White is a top rated corner, he has allowed games of 20+ fantasy points to big or fast , or big/fast wide receivers during the regular season (Robert Woods, DeAndre Hopkins, Mike Williams). Hilton fits into the fast category, and has a legitimate shot to see the end zone in this matchup.



Finding the end zone for the last Monday Night Football game of the season was no issue for Bills wide receiver Stefon Diggs. Diggs closed out fantasy football season in style going for 145 yards and 3 TDs, vaulting many of you to a championship. For TD Dance purposes, Diggs again will be our guy to bring us glory in Wild Card Weekend. Diggs led the league in targets (168) and is averaged over 10 targets a game in the regular season. It's interesting to note that over the last four regular season games that Diggs has seen seven red zone targets in that span. Factoring out Week 17 Miami game where Diggs saw limited snaps, over a five-game span (Weeks 12-16), Diggs received more red zone targets in those game than he had all season long (seven red zone targets). With Cole Beasley likely to be out in this game and with Diggs increased red zone usage, Diggs will continue his assault on the league as the leagues best receiver.
My Dance Partners:
Jonathan Taylor, RB, IND
T.Y Hilton, WR, IND
Stefon Diggs, WR, BUF
In true 2020 fashion, the year that never seems to end gifts us this weird matchup: the 7-9 Washington Football Team will have homefield advantage against the 11-5 Bucs. We can also hold the NFC Least culpable here after the Eagles Nate Sudfeld incident that allowed the WFT to take the division.
No matter how they got here, the WFT has played incredibly tough football. This playoff game will be an absolute war, pitting Washington's second-best passing defense against the Tampa Bay's league-best rushing defense. There will be keys to unlocking offense in this Wild Card game, and one will be for the Bucs will be targeting the tight end position. Washington has given up as many tight end touchdowns (7) as they have given up running back rushing TDs (7).
It just so happens that our lead TD Dancer, Rob Gronkowski, scored seven TDs this regular season. Gronk continues to perform and has seen a majority of the Bucs snaps (77.4%) as their primary tight end. This weekend was the reason Tom Brady insisted that Gronk be added to the team: Gronk lives for playoff football, where he has accumulated 1,163 receiving yards and 12 TDs in 16 playoff games. With Mike Evans potentially out after a gruesome looking knee hyper extension, look for Gronk to see more targets and build on his impressive playoff resume.




A healthy Mike Evans would have gotten our nod to be our next TD Dancer. With Evans being a game time decision, we are going to pivot to another elite Bucs wide receiver who has came on strong as of late in Antonio Brown.
Let's be clear: we don't have to like Antonio Brown the person. All we care about is his ability to score TDs. And he's delivering in that department having scored a TD in each of his last three games. It's Brown's mid to deep field connection with Tom Brady and high potential for target hog level of volume that gives AB the nod over Chris Godwin, who's also surging. In two games where Mike Evans was not the top target (Week 11 with Evans drawing top coverage from Jalen Ramsay & Week 17 because of injury), Brown gobbled up an incredible 13 and 14 targets. You love the potential of 13-14 targets for Brown, and what is even more intriguing is how Brown wins against a tough Washington secondary. Of the ten wide receiver touchdowns scored against Washington, six of them were passes of 15+ yards, with four of them being 50+ yarders. This is the area of the field that AB operates from, with his four TDs on the season coming from 46, 30, 25 and 12 yards out. It certainly isn't a sure thing, yet AB is the best receiver option with Evans out to score against the top coverage of Washington corner Ronald Darby.
What was the closest thing to a sure thing in the red zone this season was Washington rookie running back Antonio Gibson. Gibson had a 28.10% TD rate when given carries in the red zone and accounted for 32% of ALL of Washington's offensive TD production. This is significant for two reasons:
1) Gibson did this in only 14 games and with a 45.4% snap share
2) When the WFT gets in the red zone, it is Gibson that they trust with the ball. When the WFT scores a touchdown, it's most likely going to be Gibson responsible for it
Against a stout Bucs run defense, it is Gibson's talent, volume and importance to this offense that I'm banging on to be my third dancing musketeer in the late Saturday game.
Rob Gronkowski, TE, TB
Antonio Brown, WR, TB
Antonio Gibson, RB, WAS